Personal Biography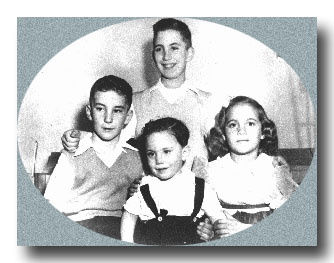 Born in 1955, Garry was raised in a tightly-knit "working-class" family in Revere, Ma. The youngest of Lou and Charlotte Krinsky's four children, Garry immediately began to follow in his mother's theatrical footsteps. (Charlotte had worked with the "American Theatre Wing" during World War Two, and continued as writer/producer/costume designer for the reknowned "Krinsky Halloween Pageants" over the next two decades.) Visitors to the Krinsky home could always count on plenty of great food and usually some kind of performance. Growing up in this festive environment, Garry naturally developed a love of theatre, but he also credits his father for giving him the will to work and train. Combining his father's athleticism and endurance with his mother's creative flair, Garry inherited the ability and desire to become a performing artist.

After acting in variety of plays in high school and college, he began studying mime and theatrical clowning in 1976. Working odd jobs to finance his training, including driving a cab, serving fast food, and delivering singing telegrams in a gorilla suit, Garry endured years of being a "struggling artist." Whether "street-performing" in Boston or Cambridge, "roving" at corporate functions or trying out new material in the Krinsky-family living room, Garry quickly learned that involving the audience was crucial to his style of theatre. He also discovered that writing (and performing) songs and poems greatly enhanced his mime and clown work. This was another skill Garry shared with his mom, and partly why, debuting his mime/poem "Thadius The Thief" for an audience of one (his mom) is still his greatest theatrical moment. Based on a true life incident, in which two thieves attacked Garry, unsuccesfully trying to steal the sound system Charlotte had recently bought for him, Garry's debut performance brought tears of pride and joy to his mother's eyes.
Charlotte died in 2001, but Garry feels blessed that she lived to see him grow and succeed in her beloved theatre. In 1998, when Garry did ten shows at the 1600 seat Kravis Center, a few miles from Charlotte's West Palm Beach home, she and Lou came to most of the shows bringing 50-60 of their senior citizen friends. Charlotte's legacy to her children was to love and honor the family. The four Krinsky siblings do just that, spending lots of time with each other, even vacationing together, and weaving the next generation of Krinskys into this family atmosphere. It is only natural that Garry performs "family theatre". As Charlotte welcomed people into her home with lavish spreads of food, festivity and warmth, Garry, likewise, welcomes audiences into his theatrical "home". One should also not be surprised if, during one of his tours, Garry shows up with a 90 "plus" year old "roadie", the real Mr. Krinsky!
Married since 1989, Garry lives with his wife, Marlynn K. Clayton, in Greenfield, MA. An acclaimed teacher and educational consultant, Marlynn has helped Garry understand how children think and learn. Marlynn co-founded The Northeast Foundation for Children and The Greenfield Center School and has shared their approach, The Responsive Classroom® with schools across the U.S. After performances, people often ask Garry if he was formally a teacher, to which he playfully replies, "No, but I am married to one!" An avid gardener, Marlynn maintains over 100 orchids (as well as a variety of manicured gardens) in their humble abode. She trains their two "bijon" canines (Frankie and Willy) in dog agility, routinely entering them in various agility competitions. Also a naturalist, she kayaks and snorkles with Garry whenever possible.
Though having no children together, Garry is step-father to Marlynn's son, Sasha. Having earned a masters degree in social work at U. C. Berkley, Sasha is now a councelor at the Two Rivers School in Washington, DC. He is also an accomplished juggler, and has performed onstage with Garry at various times. Sasha has a unique sense of music, and Garry often consults with him when writing songs or creating music for his show. While Sasha was in his teens, they began scuba- diving together. For Garry, this has become a lifelong pursuit, and he counts himself fortunate to dive among sharks, dolphins, turtles and a vast array of colorful sea-life.
Garry is as active offstage as he is onstage. His offstage interests have led him into many adventures involving snorkeling, kayaking, running and competing in triathlons. These adventures have produced some interesting tales and moments of discovery. Some highlights of his kayaking adventures include: paddling with over 100 sea lions in Northern California, (How Garry taught the sea lions to kayak is still a mystery); coming face to face with a 6 foot alligator in the Florida everglades; and seeing great views of eagles, osprey, herons, and countless other magnificent birds. Kayaking enriches Garry's perspective on the cities and towns he travels to, as well as being a wonderful and healthy diversion to "life on the road".
To supplement his income in the early 1980s, Garry worked at a health club, where he received a "crash course" in exercise physiology. Inspired by his new knowledge, he began to compete in triathlons, marathons and road races. What he learned about pacing and training, enabled him to achieve a particular success that had previously eluded him. He became adept at setting challenging athletic goals, and creating training plans to reach them, both for himself and for those who sought his advice. In particular, Garry enjoyed doing this for triathlons, where each competitor's strengths and weaknesses in each of the three sports dramatically effect the outcome. Garry's swimming was a huge weakness, while running and, to a lesser degree, cycling were major strengths. The sense of accomplishment that he felt in overcoming his poor swimming, gave him as much joy as sharpening his strong running ability. He often jokes, "When I first started competing back in the 1980s, I was a very slow swimmer, and after 20 years of training, I'm still slow, but at least I have more fun now."
In a recent triathlon with over 600 competitors, Garry finished 350th in the swim, was 68th best on the bike, and 4th best on the run. Although it does motivate him to compete against others, his greatest challenge is competing against himself. Hence, his most notable triathlon experience occurred in 2001, when he got a flat tire halfway through the 8.5 mile cycling leg. Removing his cycling cleats, he ran the bike in the final 4 miles wearing only his socks! He finished the race, completing the 6.2 mile running leg - this time in shoes. To this end, he asserts that conquering adversity and meeting our individual challenges, is more important than winning.
"I've been lucky enough to win six different road races outright, but finishing 386th in the Boston Marathon (in 2:52) is still my best race! Training for 3 months through snow and darkness on icy roads that barely had enough room for cars, never mind runners, gives the marathon a poignancy that shorter races lack." Completing 12 marathons has gotten most of the 26.2 mile "bug" out of his system. Plus with increasing career demands on his time, Garry now competes in mostly shorter races. Among his personal bests, he lists his 34:59 for 10k, 27:42 for 5 miles, 16:37 for 5k and 4:58 for 1 mile. "I love breaking time barriers, but as I've aged, my time goals have gotten slower. Still, running and racing gives me such a thrill. Plus I've met (and continue to meet) some wonderful athletes along the way, some of whom I count among my dearest friends!"
Aside from the obvious health benefits, running has provided Garry a sharper sense of time and punctuality, and the endurance needed to maintain the energy of Toying with Science.