WHAT PRESENTERS SAY ABOUT GARRY KRINSKY

THEATERS
Krinsky's show is bright, fun-filled and audience interactive - and learning a thing or two didn't hurt either.
Nancy Tuttle. The Lowell Sun, MA

Garry Krinsky's show is both literally and figuratively a balancing act. The vaudeville style stunts are first rate. Better yet, he ties and reties each of them back to scientific principals. He has the unique ability to both entertain and educate a very tough audience - in our case, two full houses (1,250 each) of 6-11 year olds.
Mary Stremlau, Associate Director, Grand Theater, Wausau, WI

What a delight!! The performance was felt with much enthusiasm by the audience. Garry was very professional, energetic and totally engaged the audience.
Karen Wilson, Educational Theater Coordinator, Maxwell C. King Center, Melbourne, FL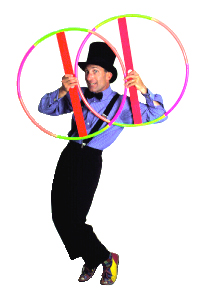 A quality artist with a quality show from an outstanding agency. Krinsky's show is wonderful, and he was a pleasure to deal with.
Jessica Finkelberg, General Manager, John Harms Center for the Arts, Englewood, NJ

Garry is a delight to work with and wonderful with the kids. A real crowd pleaser. He went above and beyond our expectations and we truly appreciate it. Excellent!
Nuggie Libecap, John Dorsey, Victoria Theater Association, Dayton, OH

Garry was very professional, personable and agreeable. He delivered high quality performances which were well received. We had much interest and strong sales for this program.
Nancy Guertin, Artistic Director, Mississauga International Children's Festival, Mississauga, Canada

Garry is a delight to work with, both on and off stage. The audience displayed a high level of participation and interest.
Denise Nelson Nash, Director, Caltech Public Events, Pasadena, CA

His show teaches the children so much about science and allows them to participate in the process...Garry makes it so exciting, fun and easy to understand. Toying with Science is a great show for all ages.
Caroline Chapman, Chairman, Children's Theater Festival, Tryon, NC

Garry kept the audience spell-bound. Both our 2 school audiences and our family show audience requested that Garry return soon. Darla Meeker, Children's Programming Director, Luther Burbank Center for the Arts, Santa Rosa, CA

Garry was wonderful to work with. His enthusiasm was contagious, both on stage and in schools. Seeing a child's face light up became commonplace by the end of Garry's time with us. We hope to be building name recognition for Garry in our community and plan on bringing him back.
Kimberly Farris, Educations Programs Coordinator, The Ohio Theatre, Cleveland, OH

Adults and children respond to Garry's wonderful humor. I found myself falling out of my seat...He has a fine sense of theatre, comedy and aliveness that is charismatic.
Pat LaMountain, Executive Director, Shea Theatre, Tuners Falls, MA

The artistic merit of the program was very high. Garry Krinsky's fast-paced, interactive performance satisfied two diverse audiences with students in preschool through junior high. His creative staging, incredible juggling and balancing skills, his sense of humor and ability to involve the audience all contributed to a very successful performance.
Rebecca B. McMeekin, Program Director, Chandler Music Hall, Randolph, VT

This was an extremely well done performance. Garry is highly communicative in his movement, speech and expression. He quickly pulls his audience into the performance with him; colorful, magical, insightful and still very educational.
Marilyn P. Davidson, Director of Education & Outreach, Paramount Arts Center, Ashland, KY

Completely entertaining as well as educational. He allowed for enormous audience participation, which kept our younger audience members attention; enjoyed just as much by the adults!
Vicki Roberts, Program Chairman, Charlottesville Performing Arts Center, Charlottesville, VA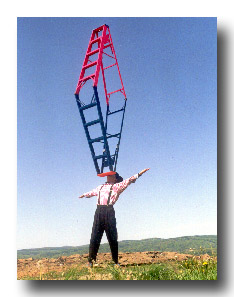 The audience loved Garry. I have no doubt that if we bring him back again, we will significantly surpass our first audience. Our corporate sponsor was thrilled with Garry! His program was a perfect match for their product and I am sure they will continue their sponsorship relationship with us.
Steve Finn, Director of Education, Proctor & Gamble Hall, The Aranoff Center, Cincinatti, OH


I wanted to thank you and Garry for allowing us to present Toying with Science, the first of our ArtsReach Educational Initiative programs at the State Theatre. It was a stunning success. Close to 400 students attended the first program at 10:30 am and over 500 for the 12:30 program. As usual, Garry's stunning presentation of science, math, humor and engagement with the students created an environment of excitement, not only for the students and educators, but for the Board of Directors who realize the importance of arts education and how it will lift this community. Mary Beth Aungier, Director of Operations and Programming, The State Theatre, Culpeper, VA
Schools, Libraries, Museums & Community Centers
This was a wonderful program that received unanimously positive reviews. Teachers felt it was entertaining and educational. It fit into our science curriculum perfectly. Mr. Krinsky is a most engaging and generous performer. We will have him back.
Dr. Marc Summers, Coordinator of Cultural Arts, Freeport Schools, Freeport, NY

Wonderful! He is delightful and so self sufficient. We love Garry!... Second straight year of booking into schools.
Ivy Eyrick, Theatreworks, Jacksonville, FL

The enthusiasm of the performer, the subject matter of the show and superb delivery of the performance makes this presentation exceptional., The performer has a wonderful rapport with children and parents.
Brian Bemel, Performing Arts Specialist, Ventura County Schools, Ventura, CA

Terrific! The integration into core curriculum is great and an easy "sell" to our schools.
Jane Lonon, Executive Director, Ashe County Arts council, Jefferson, NC

Toying with Science has been one of our best school assemblies ever. Students, teachers and parents were extremely impressed with Garry's performance. We highly recommend him!
Christina Weisz, Greenwich Academy, Greenwich, CT

Garry's incredible talent and enthusiasm came across...It was fun for the students to watch him draw teachers and administrators into the act - he was entertaining while maintaining their dignity and respect! I was most impressed by his desire to involve the students, yet insure that their experience was successful.
Debbie Blanchard, Landmark School, Manchester, MA

Garry is the first artist I have booked without previewing at a showcase. Therefore, I was a bit apprehensive only because there are quite a few performers who recently have jumped on the science bandwagon. However, Garry was absolutely fabulous! The teachers and students raved about him for days. "Best program we've had in years," remarked a long-time teacher. Teacher after teacher remarked on the superiority of his performance with comments ranging from "simply fantastic" to remarks on specific ways his show tied in with their curriculum.

Garry has a well-thought out balance of fun, showmanship, basic science and conscientiousness. After he wows the kids with an incredible physical feat, he follows up with remarks on the importance of practice, patience, concentration and safety considerations. His show is not just a "wow", but hard work. His closing message about marathon running and perseverance is quite inspirational, as well. Most importantly, the kids loved it.
Ellen Kisslinger, Forest Avenue School, Hudson, MA

Having seen Garry's performance at the Richmond Children's Festival two years ago, I was determined to get him to our town! Finally successful, Garry put on a one-of-a-kind show that was viewed by many of our veteran teachers (20+ years of teaching experience) as the best school performance they had ever attended! His ability to "play with" the audience was greatly enjoyed. His professionalism, good humor, and skill at his trade created a performance that none will soon forget!
Judy Zube, Williamsport Elementary School, Williamsport, MD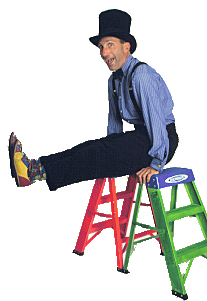 When we saw Garry perform at a showcase, we only saw a portion of his show. What we saw convinced us that he was an extraordinarily talented artist and that our students would love him; but we did not anticipate that he would surpass our expectations! He engaged our students immediately and sustained their interest throughout the fast-paced, energetic, and highly creative performance. Garry charmed and wowed everyone. The "Fulcrum Man" section, perhaps the zaniest part of the show, was extremely clever. At that point, Garry reminded me of Robin Williams. I'm probably not the first to make that comparison. If truth be told, we got more than we bargained for with Garry. He never stopped talking science and he did this in the most creative way possible through mime, physical comedy, juggling and balancing .

Garry is a highly engaging performer. As the children exited after the performance, I heard comments such as "amazing", "awesome", and from one teacher, "inspirational." This particular teacher was nearly moved to tears by the closing moments of Garry's show, where he showed the audience the quilt he had made from tee-shirts worn during various races. He made a very smooth transition from science to setting goals and doing one's best. This closing was very nicely done. We appreciate the message that participation in sports, and setting goals is not about winning, but about doing your best. We didn't expect to see this serious side of Garry, but I have to tell you, it made an impact. All I can say is that first he wowed us, then he disarmed us with his sincerity. Thank you, Garry, for an exceptional performance!
Carolyn Sullivan, General John Nixon Elementary School, Sudbury, MA

We found Mr. Krinsky to be very entertaining with an absolutely mesmerizing show! His knowledge of science, balance and physics not only came across educationally, but also showed how exciting science can be. I am sure that every child was touched somehow by Mr. Krinsky's genius. Aside from his wonderful act, we found Mr. Krinsky to be a kind, caring individual with a real zest for life. This came across to the whole school. The school just seemed to smile for days even after Mr. Krinsky had long since left. People are still talking about what a wonderful assembly it was. We hope that we see much more of him!
Jeanne K. Jones, Dillard Drive Elementary School, Raleigh, NC

Exactly what we had hoped for. We were thrilled with Garry's positive message. Try your best, love what you do, but don't worry if you're not always #1 . Audience loved him.
Valerie Kohn, Curator of Education, Berkshire Museum, Pittsfield, MA

Garry was a delight to work with' professional and cooperative. Teacher evaluations were extremely positive; one claiming, "It was the best show I've ever brought my students to see."
Judy Cohn, JCC, Dallas, TX

Your wonderful talent, great spirit and sense of humor created a mesmerizing performance. Your way of interacting with the audience was lovely. What a great way of bringing young children and adults together!
Irit Magnes, Coordinator, Schenectady JCC, Schenectady, NY

Garry was great. He has a real sensitivity with his audience that's not contrived. I really feel some of the members of the audience felt a sense of accomplishment, something that is sometimes hard to come by with inner city youth. I feel that the show really accomplishes what it sets out to do; making science fun for kids and grown-ups, too!
Dianne Zarrabi, Springfield City Library, Springfield, MA

Garry was superb. Everyone enjoyed him. He was professional and adaptable, energetic, fun, witty. We loved having him! P.S. He inspired our president to do a handstand!
Kristin Rihder, Amherst College, Amherst, MA

Garry was enticing, educational and entertaining. Bravo Garry!
Donna Gay Anderson, Artistic Director, Fanfare, Southeastern Louisiana
Garry Krinsky captivated the audience the moment he began to perform. For the next 50 minutes, he engaged with the audience and delivered the goods on fundamentals of important science principles in a way that every person there could wrap their brain around. In this era of "No Child Left Behind", he took every child, teacher, parent, custodian and administrator along for an amazing ride packed with feats of science that enthralled and astounded all who were present.
What Garry provided for our school was not just entertaining, but valuable. Our pre-K will have a head start grasp on, and excitement about science; our fifth graders who are facing standardized testing will be at an advantage, really "owning" knowledge for having been part of the Toying With Science experience.
I had hoped that Toying With Science might inspire kids to want to know science and that it might inspire teachers to view science with new eyes. Those hopes have been exceded. A week after his show, the compliments are still cascading in. "Amazing" is the most often used word. Evidence of Garry's impact is everywhere:
"This was so worth it" – Mrs. Stokes, 5th grade teacher, referring to curriculum time spent on Garry's show.
"We are beginning selection for our Science Olympics Team and I think Garry's show is inspiring kids who would not ordinarily step forward" – Mrs. Vaughn, 5th grade teacher.
"Thank you for bringing Garry Krinsky. We really enjoyed learning about fulcrums, gravity and how to juggle. We found out that learning science is a step by step process. It was also really cool watching him balance the ladders on his chin. The program was very educational, but most of all it was a lot of fun !" – Mrs. Tucker's 4th grade class
"Thank you for the really great program on science ! We enjoyed it." – Mrs. Fober's Pre-K class
The mark of a truly wonderful performance is that in the end, you find yourself in a different place for having been there. Garry Krinsky did not just entertain or educate. He made a valuable, creative and dynamic impact at our school.
Julie Hird, Enrichment Coordinator, Mathews Elementary School, Midland, GA